Two-day Seminar on "Digital Deceptions"
Tuesday and Wednesday (December 29 & 30th) @ 5:45 pm. Social Distancing and Face Coverings required!!!
As Salaam Alaikum, Smart Phones, Social Media, Internet, Video Games...How much is too much? As we and our children spend more and more time on screens, what does this mean for us Spiritually, Psychologically, and Socially? What are the Hidden Harms we may be overlooking and what are practical steps we can take to remedy our condition? Join us for this two-day Seminar on "Digital Deceptions" for all ages by Dr. Ahmed Howeedy and Dr. Amir Abdelzaher this Tuesday and Wednesday (December 29 & 30th) at Maghreb (5:45 pm) at Islamic School of Miami (Masjid Al-Noor). Social Distancing and Masks will be enforced. For additional details, please click "read more" tab.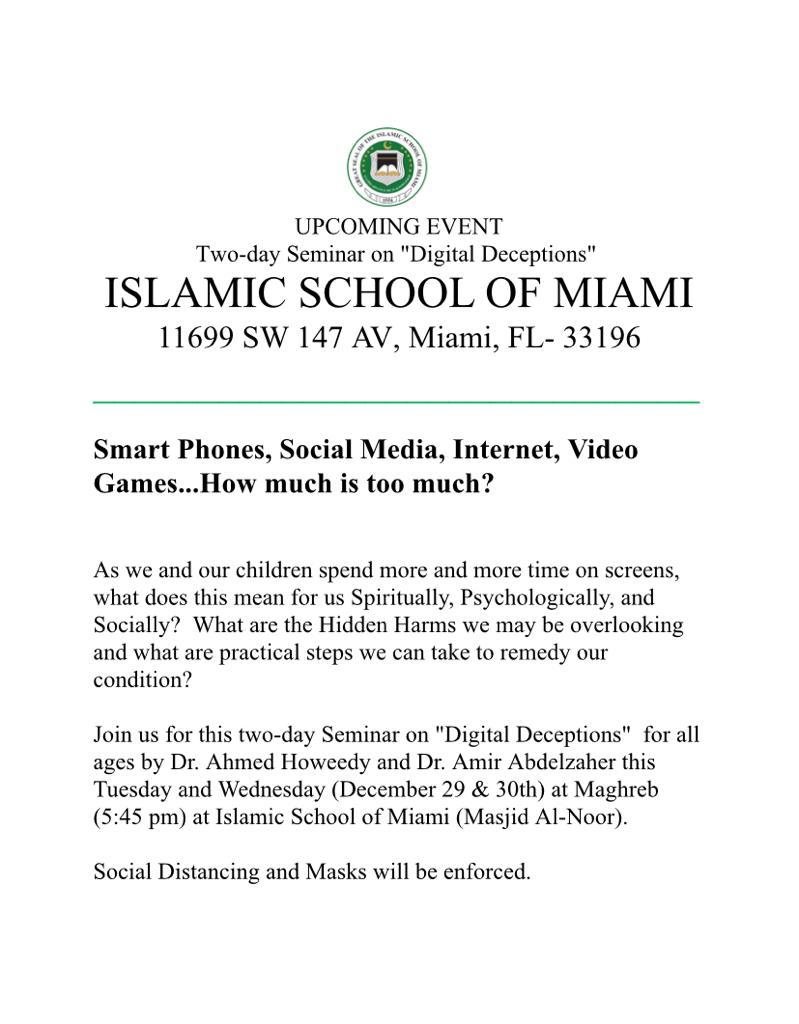 THE ISLAMIC PILLARS
The Pillars of Islam (also known as "Pillars of Religion") comprise of five core practices considered obligatory for all Muslims. A Muslim must satisfy these obligations in order to live a good and responsible life according to Islam.
SHAHDAH
The Shahadah (Declaration of faith) - Trusting and understanding the words of the Shahadah. The Shahadah means there is no other God except Allah (one God) and Prophet Muhammad (P.B.U.H) is the final Messenger/Prophet of Allah. As it is the key fundamental belief in Islam, a person choosing to embrace Islam must recite Shahadah sincerely.
SALAH
Prayer (Salah) - Performing five daily prayers for the remembrance of Allah (God). They are performed during prescribed timings at dawn, noon, mid-afternoon, sunset and night. In Islam, Prayer is a direct link between worshiper and the God and there are no intermediaries.
ZAKAT
Charity or almsgiving (Zakat) - Each year, Muslims are obligated to give a certain percentage (2.5 %) of their wealth to charity in order to help the needy and poor. The literal meaning of Zakat is both "purification" and "growth". A Muslim may also give as much as he/she pleases as voluntary alms or charity.
HAJJ
The (Hajj) is a pilgrimage that occurs during the Islamic month of Dhu al-Hijjah to the Holy City of Mecca. Every physically and financially able Muslim is obliged to make this pilgrimage at least once in a lifetime.
FASTING
Fasting (Sawm) - Every year in the month of Ramadan, all Muslims Fast from dawn until sundown. In addition to health benefits, fasting is also regarded as a method of spiritual self-purification. By abstaining oneself from worldly desires and comforts, even for a short period of time, a fasting person gains true sympathy with those who go hungary, as well as growth in his/her spiritual life.