SUNDAY SCHOOL
Under the leadership of Dr. Tariq Chebbi, Phd and his team of dedicated teachers and volunteers, ISOM is pleased to offer our weekend classes for boys and girls. This program is designed for youth to learn the essentials of Islam in an environment that seeks to nurture and develop a deep love and connection to Allah S.W.T and His Beloved Messenger (S). Students will be engaged in a curriculum that covers Holy Quran, Hadith, Sunnah, Arabic language and Islamic studies.
In today's environment, it is very challenging for our Muslim youth to maintain their identities. Thus, one of the essential goals of this program is to provide the youth with a spiritual environment that builds positive Muslim identities and inspires the youth to engage themselves in learning and practicing their deen.
SUNDAY SCHOOL GRADUATION 2022:
Graduation ceramony for Sunday School 2022 will be held on Sunday, June 5th 2022 at ISOM. Students will be receiving certificates from their respective teachers.
CLASS SCHEDULE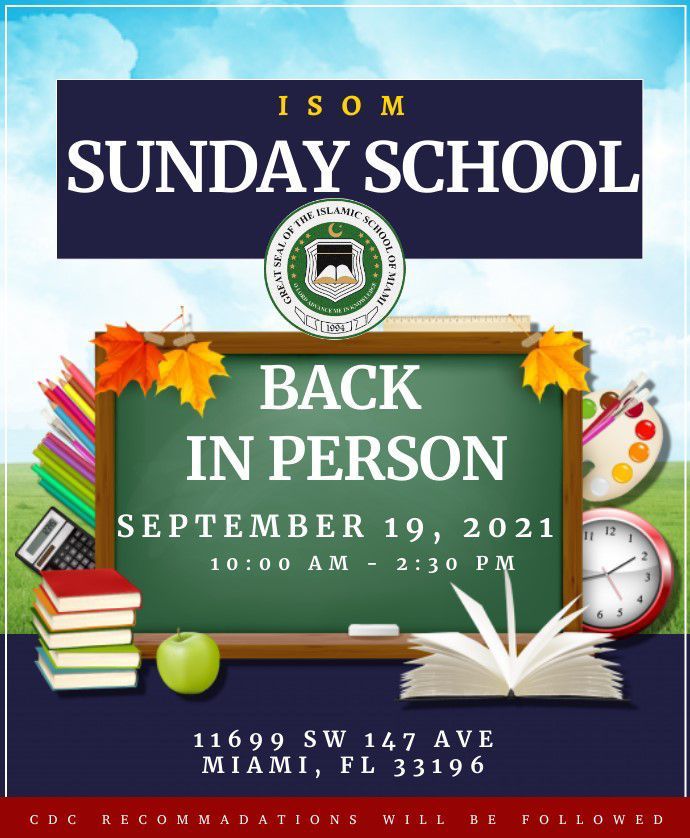 Dates:
September 15th 2021 – June 5th 2022
Timing:
10:00 AM – 2:30 PM
Fees:
Registration Fee:
Text Books:
Sunday School
For detailed information and registration, please contact:
Mr. Ibrahim Bah (Assistant Principal)
Phone: (305) 613-1256